28 products
---
Lisa Ing gifts priced at $100 and up.
---
Customer Reviews
01/28/2020
beautiful earrings
I haven't worn these yet but they're beautiful! I'm pairing them with an emerald dress. Super cute! Thank you.
09/09/2018
Adorbs!
These are SO adorable! I had a really hard time deciding between these and the amethyst ones of the same style. I'm happy I chose these. The green is so striking!
Customer Reviews
11/06/2018
Beautiful and dainty
Fabulous international delivery. Product was exactly as pictured. Well made, bespoke and great quality.
Customer Reviews
11/11/2019
My favorite pair of sunglasses
The black matte and sapphire shades are so chic and match every occasion! Dress up or down. With my professional outfits, they're sophisticated and have a subtle flair. I show up to work at a corporate LA penthouse and the shades look super slick. These stand out but are not at all gaudy. Without even trying to make a statement sometimes, Ive fetched compliments while just being out in sweaty workout clothes with these sunglasses on. Theyre so original, artistic, tasteful, and have got so much personality, I feel like a brand new babe even going to get some produce at the market! The stones are gorgeous and I love the craftsmanship - unbelievable how each is precisely hand wrought! Also these sunglasses are light and airy so it doesnt make annoying marks on the bridge of my nose, and I dont have any headaches from wearing them (some heavier bulkier shades hurt my head). Its easy to be active while wearing them, and driving in them is great too (polarized). Very functional on top of being designer-attractive!
Customer Reviews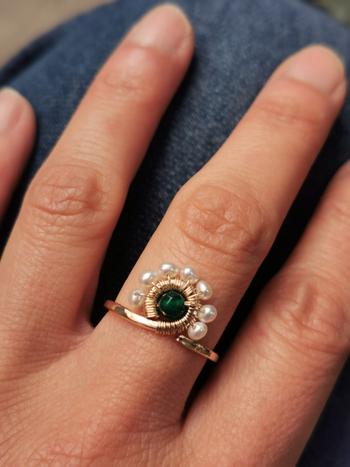 12/09/2020
I recommend this product
exquisite
This ring is exquisite and beautifully well crafted.
Jess C.
United States
09/21/2020
I recommend this product
Review Update*
Lovely owner! Thank you for getting back to me. Despite USPS having significant issues with delivery to Denver right now, I received my rings today and they are fantastic. Absolutely stunning work, thank you so much!
Taylor W.
United States
09/20/2020
Package Lost, Never Received My Rings
I never received this item. The package is lost in the USPS system. Please open a ticket for them.
Taylor W.
United States
We're sorry you haven't received your ring yet. The tracking number shows the package is still in transit. So the good news is it's not lost, just taking longer than expected. Due to the COVID-19 pandemic, deliveries are taking longer than usual. This is a global issue that everyone is experiencing and not in our control. Hopefully your package will arrive within the next few days. We'll follow up with you to double check. Thank you for your patience. Also, for your peace of mind, know that your package is insured. So if your package was lost in transit, we would happily make and send you a replacement.
Customer Reviews
03/24/2020
LOVE
I LOVE my Eastwood sunglasses. You can tell a lot of attention to detail went into making them. The Tiger's Eye gives the design a completely original look. They match with just about everything and I get lots of compliments every time I wear them.
11/19/2019
beautiful and unique
Diggin these sunglasses for a stroll in the rose garden! (I loved the black matte archer shades; this is my second pair of Ing sunglasses.) The stones and warm colors on the frame look casual, inviting, stylish without trying. Even in 91 degree weather (November in LA), the lenses held up without fogging. So comfy I forgot I was wearing them! A must-have for an active (and trendy) lifestyle.
11/11/2019
My new fav!
My Lisa Ing Eastwood glasses are my new cant live without accessory. I am constantly complimented on them and feel they are the perfect addition for any occasion!
11/11/2019
LOVE
Ive been using these sunglasses for a couple weeks now and I LOVE them! They go with everything and can easily be dressed up or down. I also love the fact that my husband can wear them as well.
Customer Reviews
04/15/2020
beautiful
These are just so gorgeous and easy to wear. Well made, great packaging, and arrived sooner than expected. Very happy with my purchase!
01/29/2020
Wow!!
I just received these earrings today and they're even more beautiful in person! I haven't seen jewelry like this anywhere else. The lapis lazuli has such a rich blue color and looks great with the bright white pearl center.