64 products
---
LISA ING handmade gemstone jewelry
---
Customer Reviews
04/02/2019
Beautiful necklace
This necklace is even more beautiful in person! Love the design and detail! Great service. It arrived so quickly.
Customer Reviews
06/15/2020
Gold filled wrap ring
I love my ring and haven't taken it off since I received it. And thank you so much for the gift of the beautiful face mask, very thoughtful gesture. I will be ordering from you again. The wrapping was so pretty too.
Anonymous
United States
01/23/2018
Understated beauty
I love the simplicity of this ring. So comfortable and easy to wear too.
Customer Reviews
01/28/2020
beautiful earrings
I haven't worn these yet but they're beautiful! I'm pairing them with an emerald dress. Super cute! Thank you.
09/09/2018
Adorbs!
These are SO adorable! I had a really hard time deciding between these and the amethyst ones of the same style. I'm happy I chose these. The green is so striking!
Customer Reviews
11/06/2018
Beautiful and dainty
Fabulous international delivery. Product was exactly as pictured. Well made, bespoke and great quality.
Customer Reviews
04/15/2020
beautiful
These are just so gorgeous and easy to wear. Well made, great packaging, and arrived sooner than expected. Very happy with my purchase!
01/29/2020
Wow!!
I just received these earrings today and they're even more beautiful in person! I haven't seen jewelry like this anywhere else. The lapis lazuli has such a rich blue color and looks great with the bright white pearl center.
11/14/2018
Bridesmaids gift
I got these for my bridesmaids. They loved them!! They all Looked so gorgeous in them with their updos! Now I need them too!!!
Customer Reviews
08/06/2018
A true gem
Lisa Ing designs are truly gems within themselves; each piece unique and beautiful! I love the versatility of each line and style as I wear them casually and for special occasions as well. The quality of the piece and attention to detail is felt each time I put them on. I feel special wearing these designs and I am sure you will too!
Customer Reviews
07/24/2019
Gorgeous!
This necklace is gorgeous! Sapphire is my birthstone so I had to have this! The sapphires on this necklace are very dark and rich in color and sparkly.
Customer Reviews
06/25/2018
Perfection!
Gorgeous necklace!! Can easily be dressed up or down and small enough to be worn with other necklaces but is a standout if worn alone. LOVE
IM
Itzel M.
Customer Reviews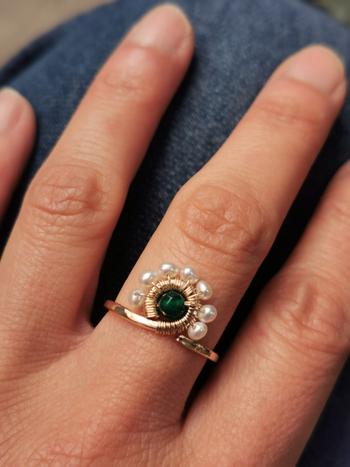 12/09/2020
I recommend this product
exquisite
This ring is exquisite and beautifully well crafted.
Jess C.
United States
09/21/2020
I recommend this product
Review Update*
Lovely owner! Thank you for getting back to me. Despite USPS having significant issues with delivery to Denver right now, I received my rings today and they are fantastic. Absolutely stunning work, thank you so much!
Taylor W.
United States
09/20/2020
Package Lost, Never Received My Rings
I never received this item. The package is lost in the USPS system. Please open a ticket for them.
Taylor W.
United States
We're sorry you haven't received your ring yet. The tracking number shows the package is still in transit. So the good news is it's not lost, just taking longer than expected. Due to the COVID-19 pandemic, deliveries are taking longer than usual. This is a global issue that everyone is experiencing and not in our control. Hopefully your package will arrive within the next few days. We'll follow up with you to double check. Thank you for your patience. Also, for your peace of mind, know that your package is insured. So if your package was lost in transit, we would happily make and send you a replacement.
Customer Reviews
02/02/2019
Perfect little necklace!
Received my Protect me Evil eye Amulet necklace and LOVE it! So pretty and dainty! Perfect for layering or wearing it solo! Thank you Lisa Ing!