19 products
---
Great products for happy, healthy, and inspired living.
Home goods. Home living. Home decor. Art
Bedroom. Bathroom. Lifestyle.
---
Customer Reviews
05/19/2020
Exceptional quality
Beautifully made with care. Really soft to wear. I love it!
05/06/2020
A beautiful investment
It's a look. At least I have my life back. Been in my apartment for weeks without walking outside my door. There are so many people out there doing good works. A huge THANK YOU to local Los Angeles designer Lisa Ing for stepping up to making these beautiful handsewn and much needed washable face masks. Best $10 investment since the shutdown. And thank you Kelli for the heads up!
04/21/2020
Nice color
Color is very subtle. Elastic is easy to adjust.
Customer Reviews
04/20/2020
Love it! Would make a wonderful gift!
I love this water bottle. It's beautifully made, the design's unique, and the removable strainer is awesome! I can throw in all sorts of fruit and loose teas to make different elixirs/infusions and never have to worry about accidentally eating tea or having fruit hit my face when I drink. The amethyst crystals that came with this bottle are beautiful, and I'm glad I have the option to change out the stones if I want. I know I'll want different stones at some point. This would make a great gift to send to someone who's into crystals and health and wellness. The box it comes in is stunning too. No gift wrapping needed. I highly recommend this product!
Customer Reviews
03/05/2020
Love!
I ordered the bottle with the Lapis lazuli and I am in love! I feel the difference in the water and the benefits! We were in an Energy healing certification and everyone that tried it felt the difference. Thank you so much!
Customer Reviews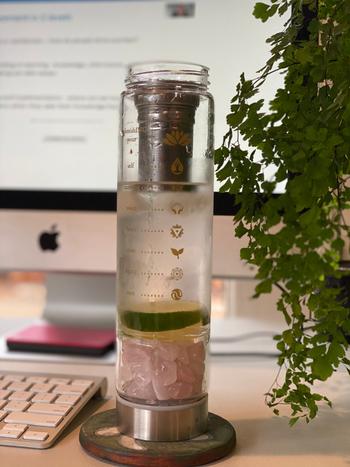 07/03/2020
I drink more water with this water bottle!
I drink water regularly and love not only the function of this water bottle but the simple beauty of it. I love flavored infused water but hate it when the "chunks" of fruit or ice slam into my face! This water bottle allows me to throw in my slices of lime, or lemon or orange without that happening. The bottle is also beautiful to look at so I feel like it's a double win!
Devon .
United States