face mask & scrunchies
handmade in LA
4 products
Customer Reviews
03/05/2020
Love!
I ordered the bottle with the Lapis lazuli and I am in love! I feel the difference in the water and the benefits! We were in an Energy healing certification and everyone that tried it felt the difference. Thank you so much!
Customer Reviews
07/03/2020
I drink more water with this water bottle!
I drink water regularly and love not only the function of this water bottle but the simple beauty of it. I love flavored infused water but hate it when the "chunks" of fruit or ice slam into my face! This water bottle allows me to throw in my slices of lime, or lemon or orange without that happening. The bottle is also beautiful to look at so I feel like it's a double win!
Devon

United States
Customer Reviews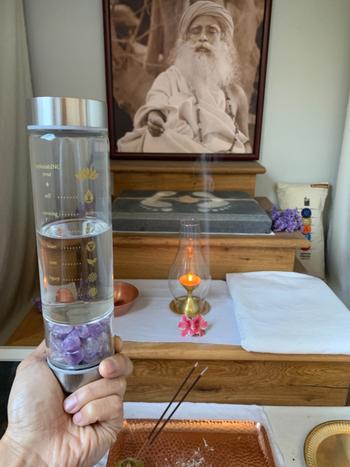 12/29/2020
I recommend this product
The Perfect Gift
I can received this crystal water bottle as a gift about a year ago, and I've been using it every day since. First of all, the bottle is absolutely beautiful, especially with the amethyst crystals inside. But the truly impressive part is the feel of it: the thickness and weight of the glass just exudes quality. I've been keeping it near my Sadhguru Sannidhi Padam so that I can take a quick sip of water as needed when I meditate. As you can see from my picture, it fits right into the energy of the space.
Howie

United States
04/20/2020
Love it! Would make a wonderful gift!
I love this water bottle. It's beautifully made, the design's unique, and the removable strainer is awesome! I can throw in all sorts of fruit and loose teas to make different elixirs/infusions and never have to worry about accidentally eating tea or having fruit hit my face when I drink. The amethyst crystals that came with this bottle are beautiful, and I'm glad I have the option to change out the stones if I want. I know I'll want different stones at some point. This would make a great gift to send to someone who's into crystals and health and wellness. The box it comes in is stunning too. No gift wrapping needed. I highly recommend this product!