Customer Reviews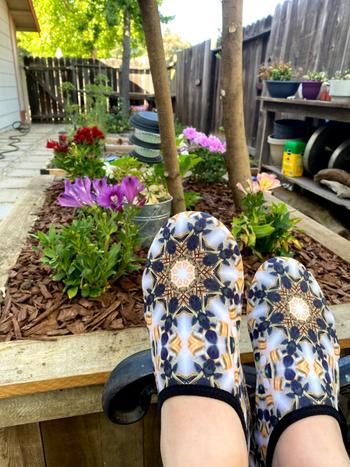 07/02/2020
Even my kids love these!
I love these shoes. Love the color and design! I use them when I run to the mailbox or when I'm relaxing in the garden or picking some fresh veggies to go with dinner. They are super comfortable but have a strong enough sole that I feel comfortable walking outside with them doing some lightweight chores! I also have a standing desk at home and standing all day on my bare feet can be too much, so I like to throw these on for a little extra support throughout the day. Also, my kids have taken to wearing them around the house when I'm not!!!
Devon .
United States
03/24/2020
Great for the water!
I love these shoes for water play. Flip flops are slippery and leave weird tan lines. These are light weight and comfy. I wore them to a water park and hung them to dry afterward. They were perfect for the next wear!
09/07/2019
Beautiful and comfortable
I wanted a cheap alternative to sandals to wear to float in the river. These worked great and I didn't have to worry about them falling off in the water. The sole has good traction and they're so comfortable and light that I even forgot I was wearing them. The design itself is gorgeous and I got so many compliments on them. Highly recommended!
08/14/2019
beautiful and comfy
Very beautiful and soft stretching material, comfy shoes! My mom and I love those! Ill use for Yoga and also water activities. Thank you!